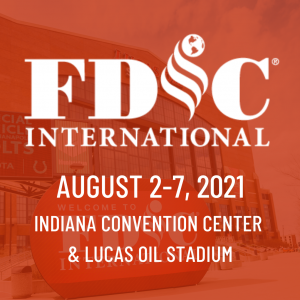 FDIC
announced this afternoon that the upcoming FDIC International, scheduled to take place on August 19-24, 2021 at the Indiana Convention Center & Lucas Oil Stadium will now take place August 2-7, 2021.
According to the announcement, moving FDIC International to August 2-7, 2021 means more hotels will be available, all of FDIC's conference and keynotes will take place in their historical locations, and we will be back to the traditional day pattern/schedule:
Hands-on Training (H.O.T.) Evolutions & Pre-Conference Workshops: Monday, August 2 – Tuesday, August 3, 2021

Conference Classroom Sessions: Wednesday, August 4 – Friday, August 6, 2021

Exhibition Halls and Outdoor Demonstration Areas: Thursday, August 5 – Saturday, August 7, 2021
This decision, like the others FDIC has made in the past year, was not an easy one.   They continue to prioritize your experience, and that includes the health and safety of each person joining us at the event. They will continue to monitor and comply with state and local health department COVID-19 guidelines.
For those of you who are registered for FDIC 2021, your registration will be valid for the new dates. There is no further action needed at this time.